NEW YORK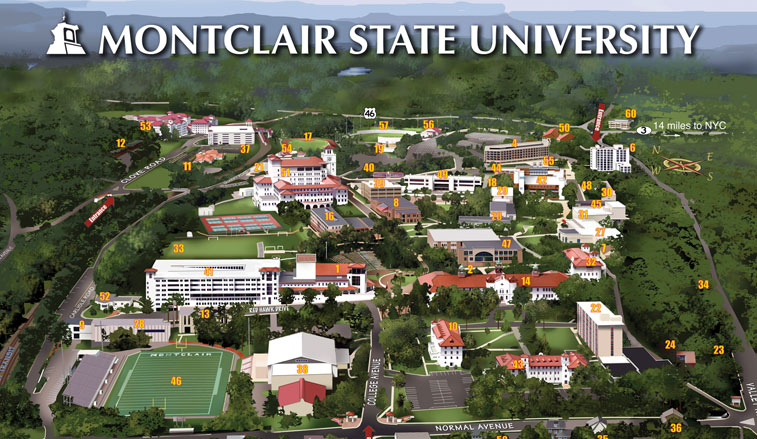 June 2016 - July 2016 Program
MONTCLAIR STATE UNIVERSITY
Montclair State University is a public research university located in the Upper Montclair section of Montclair and Clifton, New Jersey. As of October 2011, there were 18,498 total enrolled students: 14,590 undergraduate students and 3,908 graduate students. Montclair State University is New Jersey's second largest school, It is also the state's fastest growing school and currently sizes at 500 acres (2.0 km2), inclusive of the New Jersey School of Conservation, which attracts students statewide. More than 250 majors, minors and concentrations are offered.
In 2004, New Jersey Transit (Metro) opened the Montclair State University, which links the university to New York City.
RESIDENCE HALLS
Living on campus doesn't mean being confined to a cold impersonal "dorm." You'll be living in a place filled with plenty of interesting people, events and activities where life-long relationships are made.

BOHN HALL
Capturing a scenic view of the New York City skyline, Bohn Hall's 16 floors house a resident community of approximately 500 students. Residents live in traditional rooms and share a community bathroom within gender-specific wings on each floor. Every room is equipped with its own sink and vanity mirror. Rooms are double occupancy. Each room has two beds, sink, mirror, 2 Desks and two chairs, two closets
LANGUAGE PROGRAM
25 Hours of English tuition by suitably qualified teachers in classes of no more than 15 students.
Full Board Accommodation (3 meals per day)
Books ( On Loan) and note pads
Four full day excursions per day
Three half day sports and activity prorgam.
Three evening activities
End of course certificate.