CANADA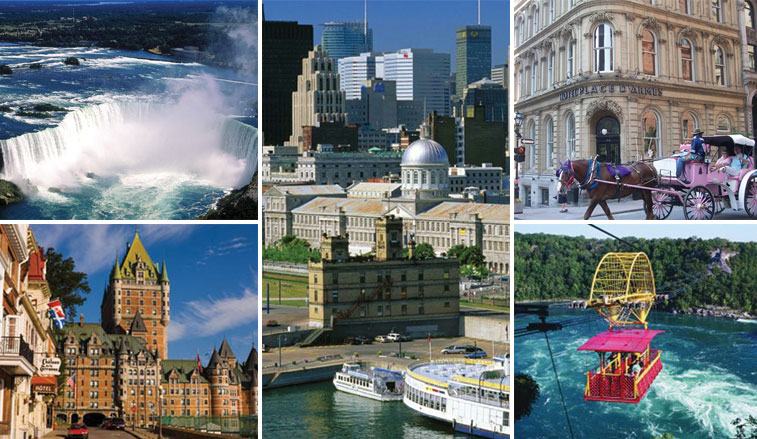 June 2016 - July 2016 Program
[DAY 1] WASHINGTON DC – NIAGARA FALLS / Total driving time is 7 hours
Ontario is the second largest province with a population of 12 million. Niagara Falls, one of the natural wonders of the earth. We will see the falls both at night and in the morning. The cities of Niagara Falls, Ontario-Canada and Niagara Falls, New York State-USA are connected by bridge across the Niagara River. The river is really a strait, carrying drainage from upper Great Lakes to Lake Ontario.
At the falls, its sudden drop creates one of the most spectacular waterfalls on the continent. The Canadian Falls is 54 meters high and has a crest of more than 675 meters. The American Falls are 56 meters high and have 328-meter crest. Approximate age of the falls is 12,000 years. The flow of the river at the falls would be about 3,700,000 liters (977,540) U.S. gallons.
[DAY 2] NIAGARA FALLS -TORONTO / Total driving time is 1 hour
Toronto, Capital of Ontario, lies on the eastern shore of Lake Ontario. Toronto is home to virtually all of the world's culture groups and is the city where more than 100 languages are spoken. It was first visited by French explorer Etienne Brule on September 1615. First name of the city was York then it was changed to Mohawk Indian word Toronto, meaning meeting place. It is the largest city in Canada with population of 5 Million. World's highest tower, CN Tower (553m / 1,815 feet) is located here.
TORONTO - KINGSTON THOUSAND ISLAND / Total driving time is 4 hours
French Explorer called this region Thousand Islands, although the islands number more than 1800. We are going to have a boat tour in here.
[DAY 3] THOUSAND ISLAND - OTTAWA / Total driving time is 1.5 hours
Capital of Canada with a population of 775,000. It is just between Quebec and Ontario. Samuel De Champlain established a base camp here in 1613. First settler was Philemon Wright from New England in 1796. Queen Victoria chose the region as capital in 1857. We will visit the Governor General's house, (Rideau Hall), Basilica of Notre Dame, Parliament Building's plaza, Light show, Changing the Guard, Rideau Canal.
[DAY 4] OTTAWA - MONTREAL / Total driving time is 3 hours
Quebec is the largest province with a population of 7.5 million. Capitol city is Quebec City and the largest city is Montreal (3.5 million). It is the French-speaking province. Explorer Jacques Cartier arrived here in 1534 and claimed the land for France. Samuel De Champlain set up a colony called New France in 1608. Quebec City was captured by British in 1759. It became a part of Canada in 1867.
French Sailor Jacques Cartier came to the island of Montreal in 1535. It has the world's largest inland port. This is the second largest City in Canada after Toronto and before Vancouver. We are going to visit the following places: Mont Royal referred to as "the mountain" by locals; this 764-foot mountain provides excellent view of the city and its popular Old Montreal (Vieux Montreal) Montreal's famous Parisian-style historic district is filled with cultural landmarks. Olympic Stadium; home of the Montreal Expos baseball team, this huge domed-stadium, first built for the 1976 Summer Olympics, is considered an architectural monstrosity.
Underground City: Montreal's answer to the region's harsh winters, Underground City refers to the extensive web of train stations, restaurants, department stores and hotels all connected underground. Formula One racing ground.
MONTREAL - ALBANY, USA / Total driving time is 4 hours
We will enter USA today and stay in Albany.
[DAY 5] ALBANY - NEW YORK CITY / Total driving time is 3 hours
New York is a city of such extremes that any visitor would be hard pressed to describe it without resorting to superlatives. Words like biggest and best come to mind when referring to America's most populated city, the superlatives are not always positive though. The enormous number of people, pace of life and stark urban landscape contribute to an often grim and sometimes frustrating experience when walking along its streets. Despite problems common to any major city, New York attracts 34 million visitors each year to its man-made canyons.
New York City is a series of islands that embrace five boroughs, or administrative districts: Manhattan, Brooklyn, Queens, Richmond (Staten Island) and the Bronx.
Both the Dutch and English spent years quarreling over the rights to Manhattan after its official discovery in 1609 by Englishman Henry Hudson (the Hudson River's namesake), who navigated the area's water ways. Fifteen years later, it was the Dutch who claimed the area by principal colony of New Netherlands. Two years later Peter Minuit, sailing with the Dutch West India Company, finagled the purchase of Manhattan from the local Indians for trinkets worth about 60 guilders, or $24. The English returned in 1664 and, angered by their trade rivalries with the Dutch in Europe, seized New Amsterdam. A more autocratic form of government was instituted, and the area was renamed New York after King Charles II's brother, the Duke of York.
[DAY 6] NEW YORK CITY - WASHINGTON DC / Total driving time is 5 hours
We will take a boat tour around the Statue of Liberty, Wall Street, Ground Zero, South Sea port and China town. Depart New York at 2 PM.