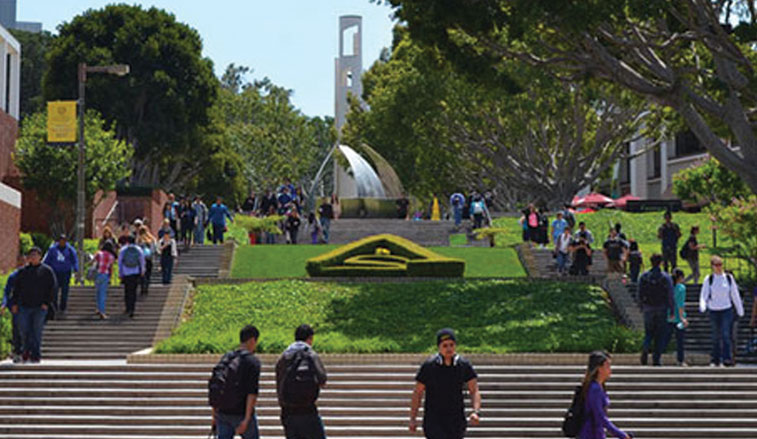 June 2016 - July 2016 Program
UNIVERSITY of CALIFORNIA, CAMPUS STAY/LONG BEACH/CALIFORNIA
California State University, Long Beach (also known as Cal State Long Beach, Long Beach State, CSULB, LBSU, or The Beach) is the third largest campus of the 23 school California State University system (CSU) and one of the largest universities in the state of California by enrollment. its student body is around 35,000 The university is located in the Los Altos neighborhood of Long Beach at the southeastern coastal tip of Los Angeles County, and less than one mile from the border with Orange County.
The campus spans 323 acres (131 ha) across 84 buildings, and is located 3 miles (5 km) from the Pacific Ocean.
The architecture of the campus is mostly of the International style. The University Student Union (USU) building is located at the center of campus. The three-story glass building occupies roughly 180,000 square feet (17,000 m2), housing numerous offices, and offering more casual attractions, including a study lounge, a ballroom, a food court, a bowling alley, an arcade, and a movie theater.
Actors Ben Stiller, Nicholas Cage, James Dean, Steve Martin, Mark Harmon, Tim Robbins, James Franco, George Takei, Mayim Bialik, Sean Astin, Holland Roden and Milo Ventimiglia are also UCLA attendee or alumni. Popular music artists Sara Bareilles, The Doors, Linkin Park, and Maroon 5 all attended UCLA. Giada De Laurentiis is a program host at Food Network and former chef at Spago. Greg Graffin, lead singer of punk rock band Bad Religion, earned a master's degree in Geology at UCLA, and used to teach a course on evolution there. Carol Burnett was the winner of the Mark Twain Prize for American Humor in 2013 (also winner of Emmys, a Peabody and a Presidential Medal of Freedom in 2005). Francis Ford Coppola (1967) was the director of the gangster film trilogy The Godfather and the Vietnam War film Apocalypse Now.

DAILY PROGRAM
07:45 WAKE UP
08:15 BREAKFAST
09:00-12:00 ENGLISH LESSONS
12:00-13:00 LUNCH
13:00-14:00 CONVERSATION CLASSES
14:00-17:00 ACTIVITIES (MON-TUE-FRI)
14:30-21:30 FULL DAY EXCURSIONS (TUE-THU)
17:30-18:30 DINNER
19:30-21:30 EVENING ACTIVITIES
SATURDAYS&SUNDAYS FULL DAY EXCURSIONS